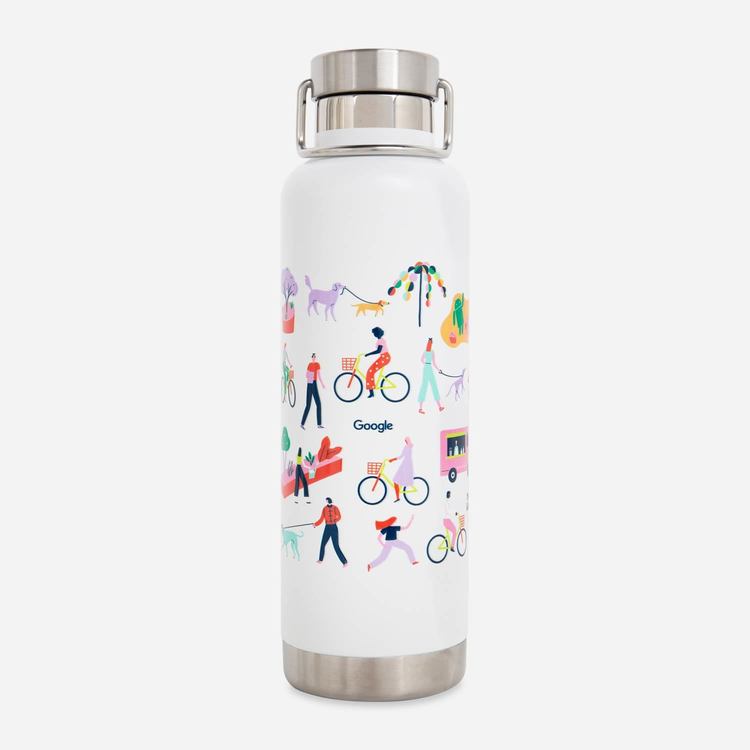 This water bottle is a "best-of" selection from our in-store mural which features all the Googley landmarks and things. You have Stan the Dino (and his flamingo friends), Google bikes galore and lots of furry friends! Illustration by Monica Garwood.
Buy Google Mural Bottle $24.00
Material Contents: Stainless Steel
25 oz double wall thermal bottle
Height: 10"
Width: 3.125"
Copper vaccum insulation
Hand wash recommended
Do not microwave
Our Mural Collection was conceived by a team of Googlers hoping to identify the most Googley landmarks and locations around Google's main campus in Mountain View, CA. The team then worked with San Francisco based artist Monica Garwood to illustrate Google's unique culture.
In early 2019, Monica installed a 27' mural in the Google Merchandise Store in Mountain View where Googlers and guests can take a photo -- and thousands of visitors stop by each week to snap a pic! This merchandise collection took Monica's amazing artwork and transformed it into some great keepsakes to remind you of about Google's magic!
Bagikan ke Facebook